Halal Reviews for Wah Bey Gants Hill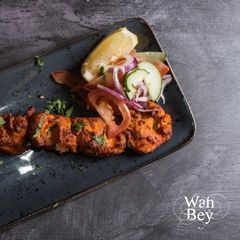 We've collected all the Halal reviews for Wah Bey Gants Hill and put them in one place. This saves you from going through hundreds of reviews which might not be relevant to the Halal experience you're looking for.
If a non-Halal reviews slips through our system (focuses on the non-Halal offerings from Wah Bey) please click the report button so our moderators can remove it.
5.0
Every piece of grill has different marination and taste. It literally takes you down the memory lane where you remember the best of Pakistani grill ever tasted in Pakistan. Awesome food experience, after a very long time just enjoyed the food. Me and my friends couldn't stop talking about the food days after we visit this restaurant. Food 5/5.
talha usmani
in the last week
5.0
The food was amazing. Authentic Pakistani food. The ambience and the atmosphere was very nice. The manager, Talha, was very welcoming. As we were new to the restaurant, the manager himself helped us in selecting our food. The BBQ platter was very delicious. And it reminded me of Karachi's food. This restaurant is highly recommended. Best of luck in the future!
3.0
They interior of this restaurant is top class however the food and service doesn't match it somewhat. That doesn't mean the food was bad however the food could have been better. The service was slow which is surprising as we went at 1:30pm and we had to grab the waiters attention to be served.
4.0
Nice ambiance and good location. Food was so, so. And would rate 6 out of 10. Would not call it authentic Pakistani food at all. Service was friendly and with a smile. Reasonable prices for food and average portions but the cutlery could be more cleaner. Plates, glasses, Tables and even washrooms needed good clean.
3.0
tried this as it was a new restaurant opening. Decor is lovely and contemporary Right up my street. but overall the service and food did not match the decor. As always best to try yourself
---